The juiciest chicken on the grill starts with bone-in, skin-on pieces. Ask your butcher to cut up a whole chicken. Then dry-brine the chicken with a simple salt-and-pepper rub and let stand; prepare your sauce and get your grill going while you wait.
INGREDIENTS
Kosher salt and freshly ground pepper
1 chicken (4 pounds), cut into 10 pieces (breasts halved crosswise)
1/2 cup ketchup
1/3 cup apple-cider vinegar
1/2 cup light-brown sugar
1 tablespoon Worcestershire sauce
3 finely minced garlic cloves
Extra-virgin olive oil
WE RECOMMEND: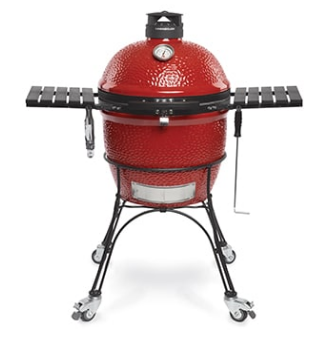 Our Kamado Joe Classic II features a thick-walled, heat-resistant shell that locks in smoke and moisture at any temperature. The easy-open dome includes our counterbalanced Air Lift Hinge and element-proof, ultra-precise Kontrol Tower top vent, while the large cooking surface underneath is crafted from commercial-grade 304 stainless steel. Other featured innovations that come standard with the Classic II include the Divide & Conquer® Flexible Cooking System, our Advanced Multi-Panel FireBox, a heavy-duty rolling cast iron cart and a patented slide-out ash drawer for easy cleaning.  Visit Le Cookery Hilton Head to purchase this amazing grill!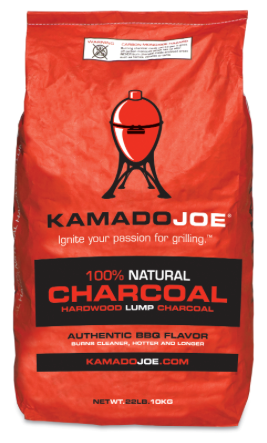 Top-grade charcoal from Kamado.  When you have quality charcoal, it makes the difference from OK grilling to AMAZING grilling.  That's the beauty of better charcoal.  We sell it in our store.  Visit us at Le Cookery Hilton Head!
DIRECTIONS
Combine 1 tablespoon salt and 1/2 teaspoon pepper. Sprinkle mixture evenly on chicken, then set chicken on a rimmed baking sheet. Let stand uncovered 1 hour.
Meanwhile, bring ketchup, vinegar, sugar, Worcestershire sauce, and garlic to a simmer in a small saucepan. Cook, stirring occasionally, until slightly thickened and reduced to 1 cup, about 4 minutes. Season with salt and pepper, and transfer sauce to a bowl.
Heat a charcoal grill, creating a two-zone fire with vents partially open. Position coals on one side of the grill for direct high heat, and leave the other side empty for indirect lower heat. (On a gas grill, turn one side on high, and leave the other burners off.) Lightly coat chicken with olive oil and place over indirect heat. Cover and cook, turning occasionally, until pieces are cooked through and a thermometer inserted into thickest parts (not touching bones) registers 165 degrees, about 30 minutes.
Uncover grill; transfer chicken to direct heat. Brush with sauce and cook, turning frequently, until caramelized and lightly charred, about 3 to 4 minutes. Brush on more sauce as pieces come off the grill, or serve it on the side.
Recipe and photo courtesy of marthastewart.com