What We Do
Le Cookery USA offers the best quality kitchen small appliances, cutlery, tableware, stemware, bakeware, cookware and cook's tools to meet the needs of the most discriminating cooks. As an exclusive authorized dealer for some of the top kitchen vendors both nationally and internationally, we offer the best from companies such as Viking, Vietri, Juliska, All-Clad, J.A. Henckel, Swiss Diamond, Intrada, Culinary Institute of America, ClickClack and many more. Needing a special gift or a gift registry for your upcoming event, use our Gift and Bridal Registry. Le Cookery USA has a store location in Hilton Head Island, SC but we ship throughout the country. Experienced, professional and knowledgeable staff are ready to assist you with all your kitchen needs.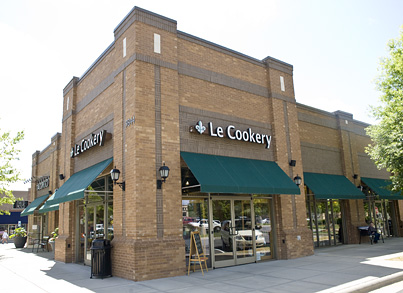 Our History
In May of 2007, Laurel and Chuck Greif became the owners of Le Cookery in the Village of Wexford on Hilton Head Island. It has been a family owned and operated local business ever since. The Greifs made Hilton Head Island their permanent home in 2004.
It is Laurel's eye for the unusual and beautiful that has lead the store to be filled with fabulous tableware from Michael Aram, Vietri, Intrada, Juliska, and Penzo (just to name a few). Chuck loves to help people find the perfect gift and elusive items. You can be confident in the products and standards that Le Cookery USA provides.
As a family run business Le Cookery USA can provide the personal service that you and your family deserve. A wedding represents the joining of two families. It can be a hectic and stressful time. It is our goal to provide knowledgeable, personal service. Let us help your family experience all the fun the wedding registry experience has to offer.
Another key member of the Le Cookery USA family is Vickie Fletcher. She is from Vidalia, Georgia originally but has made Hilton Head her home. She is an extremely knowledgeable and talented cook. She provides wonderful cooking tips and new recipes for the products we have in the store. Vickie has can create stunning table top displays and generally is the one apologizing, "for our mess" when she untakes a new display.
April Crenney moved to Hilton Head from Pittsburgh about a year ago. She has been coming to Hilton Head since 1998. She is helpful and creative. April would love to help you with all your bridal registry needs.
The owners and staff make shopping at Le Cookery USA a fun experience. They offer free gift-wrap on purchase.
Lucy and Ed are the Greif's gorgeous, playful dogs. What they lack inventory and ordering skills they make up for in affection and joy!
Thank you for visiting Le Cookery USA and considering us as your go to supplier for the kitchen and home!