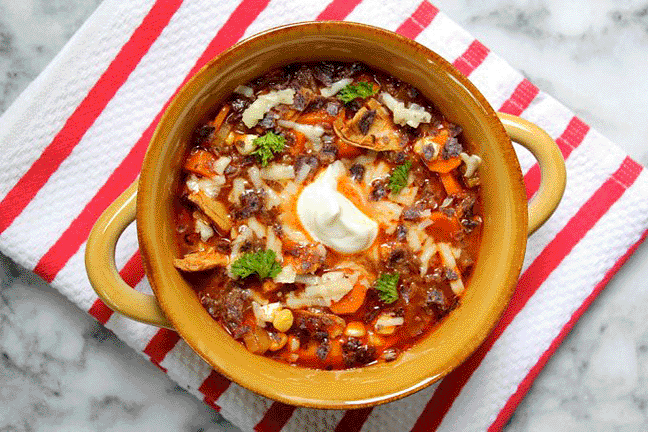 What you'll need….
3 tablespoons olive oil, divided coarse salt and fresh black pepper
1 pound boneless chicken breasts, cut into small cubes
1 small onion, diced
1 red or green bell pepper, diced
1/2 cup finely chopped black olives
3 cloves garlic, minced (Check out out NexTrend Garlic Twist tool here!)
1  1/2 teaspoons chile powder
1 teaspoon dried oregano(preferably Mexican), crushed between fingertips
1/2 teaspoon dried thyme
1/2 cup uncooked long or medium-grain white rice, rinsed well in a wire strainer with cold water
5 cups low-sodium chicken broth
1 cup salsa
2/3 cup fresh or frozen corn
Extra's…
Fresh chopped cilantro
Lime wedges
Shredded sharp cheddar cheese
Sour cream
Tortilla chips
What to do…
In a large soup pot heat 1 tablespoon of oil over medium heat. Season the chicken well and cook, stirring often so all sides get browned. Remove to a dish and set aside.
Add 2 tablespoons of oil to the pot over medium-low heat and saute the onion, pepper, garlic and olives together 5 minutes, season well with salt and pepper and stir often.
Mix in the chile powder, oregano, thyme and rice, cook 3 minutes.
Stir the chicken back into the pot and add the broth, salsa and corn. Bring to a simmer and cook 30 minutes. Stir and taste often – seasoning as needed.
Serve with toppings like cilantro, cheese, sour cream, lime and tortilla chips if desired.