These crispy, savory fritters are presented with classic tzatziki, a garlicky yogurt sauce.
INGREDIENTS FOR FRITTERS
7 tablespoons extra-virgin olive oil
1 onion, finely diced
2 tablespoons sesame seeds
1 tablespoon ground cumin
Pinch of cayenne
1 can (15 1/2 ounces) chickpeas, rinsed and drained
2 talespoons freshly squeezed lemon juice
1 large egg white
1 teaspoon coarse salt, plus more for seasoning
5 tablespoons all-purpose flour
Tzatziki recipe below!
DIRECTIONS FOR FRITTERS
In a medium saute pan, heat 3 tablespoons oil over medium heat. Add onion; cook, stirring, until soft and translucent, about 3 minutes. Add sesame seeds, cumin, and cayenne; cook, stirring, until the sesame seeds have begun to brown lightly and the spices are very fragrant, about 2 minutes; set aside.
In a food processor, combine chickpeas, lemon juice, egg white, salt, and 1 tablespoon oil. Pulse several times to form a semismooth paste. Transfer to a large bowl; stir in onion mixture. Fold in flour until just combined. Using your hands, form batter into 1 1/4-inch patties, each about 1/3 inch thick.
In a 12-inch saute pan, heat 2 tablespoons oil over medium-low heat. Cook half the patties, without flattening, until golden brown, about 3 minutes per side. Transfer patties to a paper-towel-lined plate, and season with salt. Repeat with remaining patties and tablespoon oil. Serve immediately with tzatziki.
RECOMMENDED PRODUCTS
Vitamix Professional Blender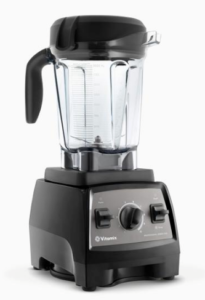 The commercial-grade Professional Series 300 expertly prepares everything from crowd-pleasing appetizers to hot soups and frozen desserts. The machine is accompanied by over 300 restaurant-quality recipes, including a section contributed by professional chefs.
CLICK HERE TO VIEW ON OUR WEBSITE
Swiss Diamond Induction Nonstick Saute Pan with Lid, Stainless Steel Handle – 12.5 inch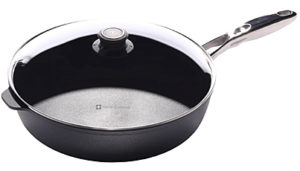 Swiss Diamond Induction Nonstick Saute Pan with Lid, Stainless Steel Handle – 5.8 qt (12.5″)- At 12.5″ in diameter, this sizable Non Stick Saute Pan is the largest in the Swiss Diamond collection. A true workhorse in the kitchen, this induction model is designed principally to work silently and efficiently on any induction cooktop, but it can also be used on gas and electric ranges. Weighing 6.79lbs, it is adorned with a stainless steel handle, molded to fit your hand, for the ultimate in stability and comfort. Cast aluminum composition of this high-sided fry pan helps it circulate the heat and disperse it equally across the entire surface and even up the sides. Say good-bye to hot spots and burnt patches in your meals with a Swiss Diamond Saute Pan!
CLICK HERE TO VIEW ON OUR WEBSITE
INGREDIENTS FOR TZATZIKI
1 English cucumber, cut into 1 1/2-by-1/8-inch matchsticks
1 1/2 teaspoons coarse salt, plus more for seasoning
1 1/4 cups Greek yogurt or Strained Yogurt
1 large garlic clove, minced
2 tablespoons white-wine vinegar
2 tablespoons extra-virgin olive oil
1/4 cup chopped fresh dill
Freshly ground pepper
DIRECTIONS FOR TZATZIKI
In a colander, sprinkle cucumber with salt; toss to combine. Let stand at room temperature for 30 minutes.
In a medium bowl, combine the cucumber, yogurt, garlic, vinegar, oil, and dill. Season with salt and pepper.
Recipe courtesy of marthastewart.com